How to start feeling at home? or twenty hours about the most important things for immigrants in Latvia
After unusual restrictions in spring, the Education Development Centre team is especially pleased to start the face-to-face integration classes of the project "Living in Latvia" for third-country nationals in July.  Participants who moved to Latvia from Ethiopia, India, Israel, Russia, Ukraine, Venezuela, and Vietnam got to know the country better in the first two groups. When speaking about their migration and life in Latvia, the participants emphasised the quality of education, the beauty of nature and the four seasons, as well as the friendliness of the Latvian population.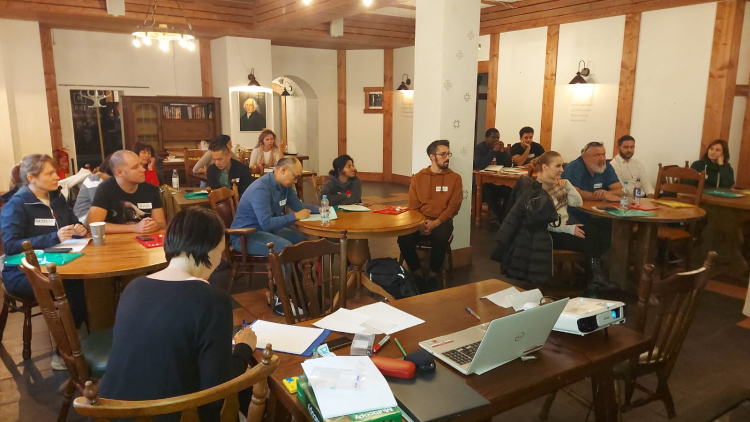 The integration course for third-country nationals is 20 hours long and can be taken in four/five meetings in day or evening groups. On the first day of the training, the participants learned the basics of the Latvian state system, concentrating on such topics as the Constitution of the Republic of Latvia, the basic principles of the rule of law, the structure of the Latvian state, competence of the municipalities and the judicial system. The participants also learned about the opportunities for civic participation, the role of public organizations and NGOs in Latvia. The questions asked by the participants concerned various aspects of history of Latvia and the principles of court proceedings. During the following classes, the participants had an overview of the history, culture and values of Latvia, learned about the role of the Latvian language at work and in everyday life, found out more about Latvian society and everyday life, gained information about health care, social services and business start-up opportunities.
More than 30 third-country nationals completed the integration program in September. The participants admit that they are satisfied with the courses, as they have learned a lot about Latvia and received answers to important questions and appreciated the interpreter's involvement in helping them understand the information. The participants wanted to know more about the tax system, opportunities to find a job, about notary services; they were also willing to go on excursions and participate in practical classes to get to know Latvia. 
We will invite to the next integration courses in November. Apply by filling in the form here.
Projekts (Nr. PMIF/8/2019/3/02) tiek īstenots  Eiropas Savienības Patvēruma, migrācijas un integrācijas fonda 2014.-2020. gada plānošanas perioda ietvaros ar Eiropas Savienības (75%) un Latvijas valsts budžeta (25%) finansējumu. Projekta kopējās izmaksas  74 644,24 eiro.