Learning about Vidzeme and entrepreneurship possibilities: the second trip of the interest club in the project "Living in Latvia 4"
The morning of March 12 came with good mood and the feeling of spring when the participants of the EDC project "Living in Latvia -4" started their trip to Gulbene region where they had the meeting of the representatives of the widest spectrum: pupils, teachers, businessmen, local municipality and different association representatives. This trip was a part of the acquisition of the integration program, namely, the second module "Topicalities of the economy and social system of Latvia: possibilities of people and society's development and progress".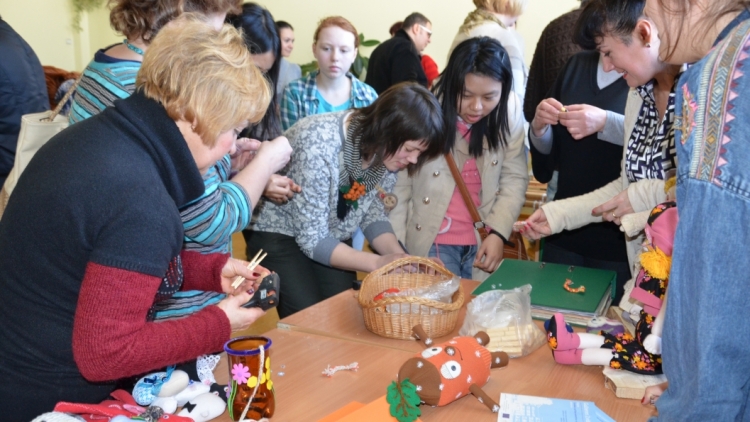 Going to Gulbene, the participants observed the landscape and learned about the places and events that could be included in their future plans of exploring Latvia: Sigulda and Cēsis with their history and modern charm, Līgatne with its nature park, secret bunker and the story of its paper mill, Āraiši with its unique castle on the lake, and then the inviting turn to Smiltene with its sports activities, Lizums with the wedding museum, gotiņas (milk toffees) and dimdiņkāposti (sauerkraut), the majestic beauty of Velēna church and Gulbene – the land of swans. Our first stop is in Tourism information centre where we learn about the history of Gulbene and its narrow–rail railway Gulbene-Alūksne. Vecgulbene manor house and museum allowed getting acquainted with the history of the region and art with the help of an interactive exposition.
The next stop was, definitely, worth visiting: "Pakalnieši" Stradu village where we enjoyed the sun of the reserved Latvian spring and learn about making the soft cheese. The tasting of the cheese turned into one of the highlights of the day. It was so delicious! No wonder that it people in the neighbourhood and even Riga are willing to buy it.
The second part of the day was spent in Gulbene Secondary school Nr. 2. We were met there by the dancers who danced Latvian folk dances. Crafts people and business men of Gulbene region demonstrated their skills and produce as well as offered hands-on experience in creative workshops. Special thanks were given to those who taught how to make soap and dolls, Latvian signs, to play music. Participants also admired snow-shoes, handicraft, candles and wooden works. The practical activities blended with discussions about the administrative and practical sides of the entrepreneurship.
The reflections on the trip written in the feedback can be summarized in one sentence: "Everything was nice, tasty, educational and creative; we want more". The more is coming because in April we will have another trip that will reveal new insights into the life of Latvian people.
Aija Tūna,
Coordinator of the cooperation, monitoring and publicity activities of the project