The basket of good deeds breaks stereotypes in Broceni, Latvia
Ligita Lukstraupe
The idea to get the passive young people of Broceni joining new activities for the good of the whole community by motivating them to do something good for free is not new. But this time the local young volunteers offered real targets – mostly places, where everybody goes and things that everyone sees. As a result a bus-stop building was painted, an elderly lady's garden weeded and a farmyard landscaped. For free and in joint work!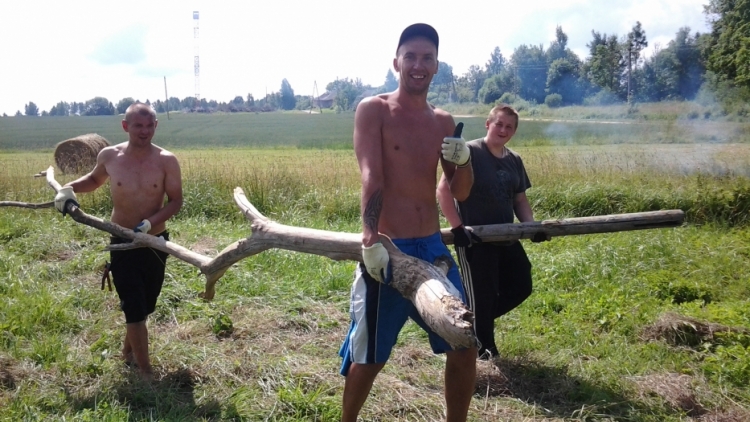 "The volunteers called, and ten people came (some of them for the first time) to help an elderly lady to weed her rather large garlic field. Some of us had never done it, although we live next to vast agricultural areas. We managed to pull out the weeds in 30 ridges, 50 metres long each! The elderly lady unfortunately lives alone, and was so happy to see the young helpers, that she immediately forgot having called some of us hooligans and fiddlers only some days ago, and treated us with strawberries and honey," remembers one of the participants, Evelina Shtefane. "While the dog ruined a tablecloth, the young volunteers also participated in a morning exercise – gymnastics with hacks. What is more important, some of them returned to the farm some days later to finish the weeding work, and a couple of girls say that they have started enjoying farm-work!" Evelina adds.
The young volunteer also has a question: "Do you know what a tractor driver's suntan looks like? Just try to spend some time under the hot sun with your t-shirt on, and you'll have one! That's what happened to the participants of the 3 day bicycle ride around the Broceni and Skrunda district. We, the young ones, not only became acquainted with the vicinity and met new friends with common interests there, we also did some voluntary work in a farmstead, where we collected nettles for the hothouse, restored benches, made new cages for rabbits, and glued wallpaper," Evelina Shtefane explains.
Some days later some young people responded to the call of the volunteers and painted a local bus-stop in clean colours near the highway that runs through Broceni. Although the masterpieces by local graffiti artists were covered, (by the way, some of the authors were also among the painters this time) all the participants came to a conclusion, that it would be foolish to ruin their own work and damage the bus-stop with new graffiti.
You might ask – what has it all to do with Grassroots activities? It was a really adventurous, funny and exciting way to get acquainted with field and farmstead work and started reconsidering leaving for the big cities after school. Young people worked side by side with seniors and mastered their skills as well as socialized with people who would otherwise never become acquainted with each other. They broke stereotypes about elderly people disliking the young ones, about agricultural work as a very dull one and the conviction that the environment of the vicinity should be kept in order by someone else, not me. Besides the bikes were offered by the local grassroots organization and even youngsters from families with low income could participate in the activity on equal basis with everyone else. For Broceni with inhabitants of very different nationalities (in the 1980ies, when a large factory was built in the town, workers arrived from all the Soviet Union) this was a wonderful chance to mix and understand each other better, as the rural people are mainly Latvians there. They even mastered a new notion – that they are all activists and the stakeholders of different activities, including the present Grassroots Europe for Local Wellbeing Project.