When teaching remotely, be positive in your attitude and thinking!
This spring was a challenging time, which made us reconsider the possibilities for training when the strict rules must be observed due to the Covid-19 virus. The project team decided to start teaching Latvian in courses and conversational groups remotely.
This time, it was very important that the Latvian language teachers of the project have a diverse teaching experience in working with newcomers in Latvia.  
Evaluating the online lessons, we conclude that the participants are actively involved in the training and gladly use the opportunity to find out the problems in the consultations.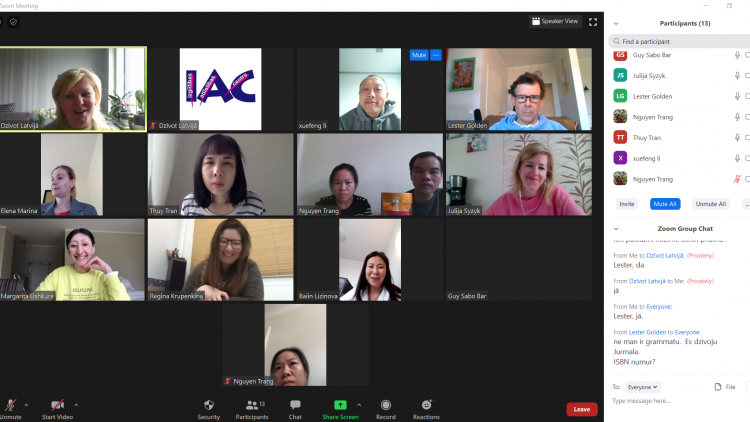 Teacher Erika (Ērika) has summarised her experience of teaching remotely:
Take enough time to successfully prepare to work online with your students. But don't worry – a little delay at the beginning of the lessons, explaining everyday things, will not affect the learning process in the long run.
Try to plan the lessons following the structure. This will make it easier for language learners to focus on their work and not have to waste time on additional explanations.
Don't forget about instant feedback using different methods.
If there is a break of several days during the training, send a fragment of the film, an animated film, or a song to the participants.
Be positive in your work, attitude and thinking!
Aija, a remote Latvian conversational language club teacher, has prepared a thematic plan during this time, based on the participants' wishes and needs. After the language club classes, the participants acknowledge:
I like remote classes because I can combine participation in a conversation club with work.
I miss the positive emotions I have when meeting close people.
I am happy to participate, as the topics are interesting.
I am completely satisfied with the remote conversation club classes because I have young children. Otherwise there would be no opportunity to get involved.
I get involved because I don't have many opportunities to speak Latvian.
I like it, it is so convenient. Especially during this time when it is recommended to avoid gatherings.
Mācības notiek Izglītības attīstības centra projekta "Dzīvot Latvijā" (Nr. PMIF/8/2019/3/02) ietvaros Eiropas Savienības Patvēruma, migrācijas un integrācijas fonda 2014.-2020. gada plānošanas perioda ietvaros ar Eiropas Savienības (75%) un Latvijas valsts budžeta (25%) finansējumu. Projekta kopējās izmaksas  74 644,24 eiro.