Face-to-Face Courses Have Begun!
After the spring full of unusual restrictions, the team of the Education Development Centre is very happy to start face-to-face courses within the project "Living in Latvia". On July 1, the first two groups started their courses; during them, the participants who have moved to Latvia from countries such as Ethiopia, India, Israel, Russia, Ukraine, Venezuela, and Vietnam will get to know our country better. Speaking about their immigration and life in Latvia, the participants highlighted the quality of education, the beauty of nature and all seasons, as well as the friendliness of the Latvian population.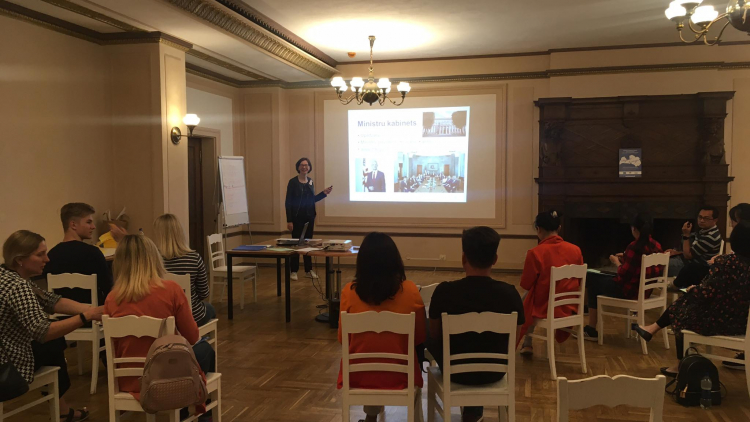 Foto: Mācības notiek Latvijas vēsturē nozīmīgā vietā – Rīgas Latviešu biedrības nama telpās
The integration course for third-country nationals is 20 hours long and can be taken in 4–5 meetings during the day or evening group sessions. On the first day of the course, the participants learned the basics of the Latvian state system, delving into such topics as the Constitution of the Republic of Latvia, the basic principles of the rule of law, the political structure of the Latvian state, the competence of the local governments, and the judicial system. The participants also learned about the opportunities for civic participation, the role of public organisations and NGOs in Latvia. The questions of the participants were related to various aspects of Latvia's history and principles of jurisdiction.
In the following meetings, the participants will gain insight into the history, culture and values of Latvia, learn about the role of the Latvian language in work and everyday life, get to know the Latvian society and lifestyle, get information about health care, social services, and opportunities for business start-up.
The participants of the course will also have the chance to participate in other educational events: visit museums together, go on a trip, and participate in a Latvian language club. If you also want to participate in similar courses, send an e-mail to iac@latnet.lv or call 67503730. The next group will start their course in the autumn (September, 2020).
Mācības notiek Izglītības attīstības centra projekta "Dzīvot Latvijā" (Nr. PMIF/8/2019/3/02) ietvaros Eiropas Savienības Patvēruma, migrācijas un integrācijas fonda 2014.-2020. gada plānošanas perioda ietvaros ar Eiropas Savienības (75%) un Latvijas valsts budžeta (25%) finansējumu. Projekta kopējās izmaksas  74 644,24 eiro.