To be engaged and truly TOGETHER: Professional and personal development workshop for students and teachers
In January 31 – February 2, 2019 three day workshop "Values, opportunities and challenges in the context of diversity" opening event of the youth integration and empowerment project "Living, learning and working TOGETHER" started for representatives from over 30 schools. 15 schools were represented with the teams consisting of two high school level students, teacher and representative of the school administration and for them it was real opportunity to get to know each other better and to engage in common activities. Group of more experienced teachers from other schools also participated to improve their capacity to act as mentors and adult educators. Such composition of the participants was designed in order to ensure that content and methodology of the workshop can be perceived from different perspectives – students, teachers, school administrators - and each target group will contribute with more specific suggestion for follow-up activities in the schools and communities.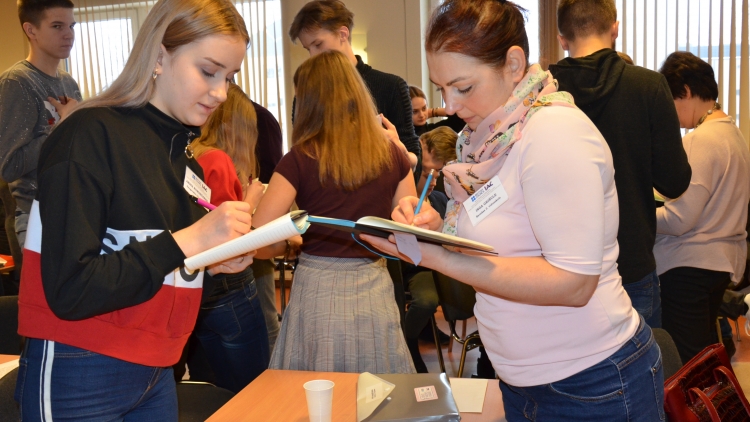 Content of the workshop was composed in order to provide opportunity for the participants to meet with the outstanding experts and opinion leaders of the chosen areas and at the same time to assist in connecting new knowledge and experience with everyday life, work and learning. Opening keynote presentation "Design thinking in practice" was given by Ingūna Elere, co-founder of the Desing studio H2E who are "designers, keen to tell intriguing and meaningful stories in new ways, fostering non-standard creativity and engaging communication". Audience – both youngsters and teachers - was interested and, according to the feedback, enjoyed new knowledge and felt inspired. Main presented topics included urging not to stop at the first sketch, idea or answer, presenting seven steps in design thinking, revealing process of designer's work in creating and implementing expositions in several museums in Latvia.
Participants also enjoyed and highly evaluated presentations made by Leonarda Ķestere actress and lecturer at the Latvia Academy of Culture on the methodology of sense of place, Linda Arhinoviča – director of the Youth initiative center of the Ķekava municipality on how to promote youngsters' participation and how to get from idea to the result, Tessa Jolls – director of the Media literacy center in the USA, Toms Urdze – adult education trainer and expert, funder of the resource www.metodes.lv, Ieva Niedre – board member of the Foundation INITIUM, producer of the cultural events and expert of the improvisation theatre, Aija Tūna – director of the national cultural education program "Latvian School Bag" from the Office Latvia 100, Linda Zajarska – project manager in the cultural NGO "Ascendum". It was interesting to find out that youngsters especially from minority schools enjoyed presentations in Latvian and also Tessa's presentation in English as it was opportunity to check and improve language skills. As it was mentioned in the evaluation forms, "I think my Latvian and English language skills improved; I am Russian speaking and most often speak Russian".
Experienced teachers trainers Ingūna Irbīte and Daina Zelmene focused in their sessions on media literacy and citizenship education as a part of teaching within regular school curriculum in order to help connecting new knowledge with everyday work back home.
One of the highlights of the project was watching documentary "A to B Rollerski" (https://www.youtube.com/watch?v=OXCBClCtn6A) (Latvian title "Impossible is Possible") devoted to the exceptional athlete and patriot Raimonds Dombrovskis and meeting with the producer of the documentary Arnis Aspers. Many schools included such event in their future plans as it has been one of the most impressive gains - to improve "skills to face your inner self, examine your own goals and realize that impossible is possible".
Board member of the NGO "Zinis" Vita Brakovska inspired audience telling about the role of participation in shaping person's own life and life of the community and society in general. With numerous examples of successful businesses and social projects across the country she urged participants "to dream, to do and then to repeat it".
"After the workshop I started to think that not everything is how it seems," "listening about media literacy "I came to the conclusion that me, represented in social media, is not real me" – these are just some of feedback provided by participants throughout and after the workshop. Main goal of the workshop was to strengthen readiness of youngsters and also their teachers to build personal future applying critical thinking, media literacy, cultural awareness and expression, design thinking, debating and other skills and competences needed for promoting social cohesion and active citizenship at the level of school, community and national level.
From methodological point of view it was very important to bring together students and teachers from different types of schools including minority schools, different regions of the country, from diverse contexts as well as to encourage students and teachers to work together as team members experiencing same things and comparing reactions and ideas what to do next. Most schools already established links for cooperation in the following activities and developed plans for dissemination new experiences in their own schools.  
Both students and teachers mentioned that they increased knowledge about different interesting and rich sources of information, such as www.lsm.lv, www.lv100.lv, www.tuesi.lv, www.metodes.lv, www.h2e.lv; they will also visit virtual museums and use notes made during the workshop.  
"I am ready to see, understand and do," was written in the evaluation forms by students. According to the teachers they " feel much stronger, richer, able to take on responsibility and to believe in my own ability and strength". Back home plans and contacts will help to implement following activities at the school and community level. More information will be posted on this website and also on the EDC Facebook account.
Summary prepared by Aija Tūna, project's content expert