You are welcome to participate in the 4th Baltic Sea Conference on Literacy on January 16 - 21, 2020 in Tallin, Estonia
You are welcome to participate in the 4th Baltic Sea Conference on Literacy "Searching for a Common language" which will take place on January 16 - 21, 2020 in Tallin, Estonia.
P.S. In case you decide to participate, please, contact Sandra Kalniņa - sandra.kalnina@lu.lv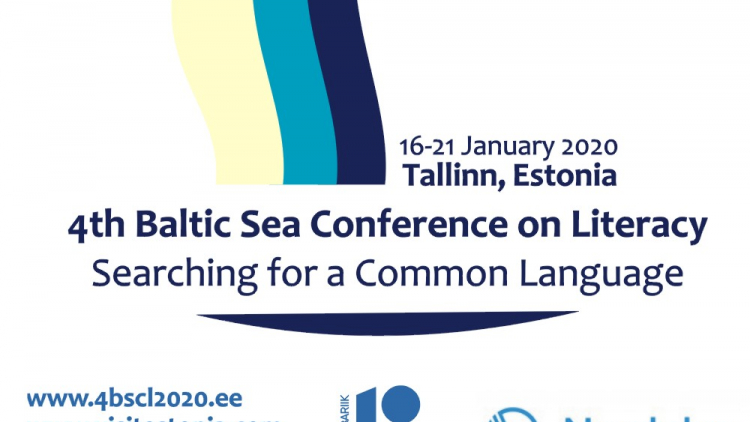 More information:
How do children, youth and adults who speak different language at home and school learn? How are the teachers trained for multicultural kindergartens and schools? What does the research say about multilingualism? How to support students and families in case of difficulties?
You are welcome to come and share your ideas and learn from others on the topic at the 4th Baltic Sea Conference on Literacy "Searching for a Common Language", taking place in Tallinn in January 2020.
The conference is part of a project funded by the Nordic Council of Ministers NordPlus Horisontal mechanism and the EU Regional Development Fund.
Like other European countries Nordics are facing challenges for social coherence within increased immigration. Educational systems in Nordic countries have up to 20% of immigrant children.
Baltic states are working for integration of non-state-language speakers (mainly Russian) since re-independence in 1991 and are facing new challenges with economic migration returners and immigrant children's education.
There is a strong tendency to design the curriculum purely for a monolingual child, who would hypothetically learn the "first foreign language" in the elementary school and after some years the "second foreign language" would follow. Already for many years our schools are working under the slogan of inclusive education, but for many reasons developing the cooperation between speech therapists, special education teachers, subject teachers, families and other agents is not easy. The children with multilingual background cannot find enough support and are often facing various difficulties in school.
We are looking at how to respond properly and adequately to the needs of diverse student and learner populations. The challenge is wider than the language learning and access to quality education. It involves communication and social inclusion. Integration increases the feeling of affiliation towards the state and other members of society simultaneously supporting the specific culture of minorities. This includes building on their heritage languages and cultures in the integration process.
Inclusion in education is the key for successful integration. Communication and language acquisition play an important role in that. Cross-sectoral cooperation with the focus on literacy in its broad sense will help children with diverse cultural and linguistic backgrounds to build a common harmonic future. Literacy (Reading) Associations in Europe have a long history of collecting and implementing best practice on the topic. Danish, Estonian, Finnish, Icelandic, Latvian and Lithuanian organizations joined the project for widening and strengthening international and local cross-sectoral networks and utilizing human resources to provide solutions for integration.
The Conference and the Project are open to all as we believe that education is a way to find a common language – the meanings behind the words, the humanist attitude to life and the empathy to support each other. The purpose is to bring together the integration experiences worldwide for sharing and networking for a higher quality and more coherent education for all.
We have diverse program with variety of connected events and innovative presentation formats like PechaKucha, elevator speech, vstory telling, video presentations etc.
The working language during the conference is English. Presentations in any other languages are welcome. No translation will be provided. The language of the presentation will be indicated in the program. 
Besides two full days of conference we are visiting the educational programs in museums and libraries on January 16th, visiting schools implementing integration approach on January 17th, and we offer study visits to education institutions and sightseeing in Ida-Virumaa, Narva, Maardu or Paide on January 20th.
Participants have a possibility to introduce their culture and language in schools and kindergartens of Tallinn on January 21st.
More information, abstract submission and online registration are available at www.4bscl2020.ee;
more stories about Estonia and conference topic can be found in the blog https://4bscl2020.home.blog/ Your questions as well as blog submissions are welcome to kristin@publicon.ee
Follow us, take your colleagues along and lets meet at the 4th Baltic Sea Conference.
Tallinn is beautiful in January, when Christmas lights are still on, but the sun signals that new year and new ideas have been born. 
Mare Müürsepp
President of Estonian Reading Association
Meeli Pandis
NordPlus project manager